Launches Late Summer 2019!
The complexity of technology and rapid change in how we work calls for the need to have a strong ergonomics program with professional support to stave off the risk of ergonomic-related work injuries!
Learn how to apply ergonomics principles for a healthier, more productive worksite while becoming a Certified Office Ergonomics Specialist (COESp)!
Employers are desperately seeking efficient and effective ways to improve employee health, wellness and productivity in today's modern office.
Employers are willing to invest in prevention and avoid the cost of seated work injuries!
Providing in-house expertise in ergonomic analysis will save approximately $500.00 in direct costs for ergonomic evaluations you perform for your employer. At the same time, you will effectively minimize employee claim filing for seated work injuries at an average cost of $40,000.00 per claim according to the California Department of Industrial Relations.
Now is the time to sharpen your skills and boost your career by becoming a Certified Office Ergonomics Specialist (COESp). With your in-house expertise, you'll be able to help employees stay healthy, avoid workplace injuries, reduce workers' compensation claim filing and work more productively knowing how to use their equipment more effectively.
Our training will give you the skills to assess and manage common workstation set up concerns, advise employees in healthy work practices while identifying and recommending the right equipment when needed.
Successful completion of the course along with small group coaching and deeper one: one mentorship with Alison Heller-Ono, veteran Board Certified Professional Ergonomist will assure basic competency and confidence in delivering in-house ergonomic evaluation services for healthy employees at your organization.
This workshop is delivered on a limited basis to a small group of professionals. It's unique from others because we offer small group and one: one coaching using the latest video and learning management software to assure a successful outcome for each student.
All students receive the Worksite International System of Ergonomic Evaluation which includes report templates and tools to perform assessments. Our valid methodology offers students an objective measuring technique and reliable decision making in identifying the most appropriate solutions every time.
This Course is Designed for You if:
You want to enhance your current position within your organization
You want to change your career and are looking to break into the ergonomics, health and safety profession
You have a corporate initiative from management to learn ergonomics
Your organization needs to reduce employee risk
Your organization is seeking to improve its current ergonomics program with more accountability and in-house expertise
You are passionate about ergonomics and want to learn from the best there is!
You've already been certified but you want more knowledge, experience and report templates and other valuable tools to work with.
Plus, being mentored by a veteran would be a great opportunity!
Choose from three levels of registration:
Basic: Course only includes evaluation tools; two small group coaching sessions; pass exam and receive a Certificate Achievement in Course Completion only.
Advanced: Course includes evaluation tools; four small group coaching sessions; two one: one private coaching sessions to review two of your evaluations with Alison Heller-Ono. Earn your COESp within 60 days of course completion.
Elite: Course includes evaluation tools; plus additional bonus evaluation tools for more service options; four small group coaching sessions; six private one: one professional mentoring sessions with Alison Heller-Ono to review three reports; unlimited email and phone support within 90 days of course completion. Earns your COESp.
Earn Your Certification as a COESp
Become a Certified Office Ergonom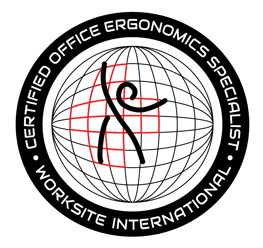 ics Specialist (COESp) using the Worksite International System of Ergonomics Analysis!
Requirements for Certification:
Complete the entire online workshop in the recommended time period (8 weeks) including strategic and tactical exercises to help build your knowledge, observational and assessment skills.
Pass the final ergonomics review with a score of 75%.
Demonstrate your competency in performing an ergonomic evaluation by submitting a minimum of 2-3 completed, typed reports using the Worksite International Preventive Evaluation Report templates reviewed and approved by Alison Heller-Ono. (Time sensitive deadline!)
What you will learn:
Each module is designed based on best practices in conducting office ergonomic analysis.
Establish the framework for your ergonomics program for organizational effectiveness; understand how a proactive process can impact your organization; establish ground rules as an office ergonomics evaluator.
Define ergonomics, MSDs, CTDs, RMIs and the primary and secondary risk factors that contribute to their development. Understand signs and symptoms employees commonly report and what they mean.
Learn various measurements to objectively match the chair, workstation, keyboard surface and monitor to the worker.
Understand the science of sitting and using an ergonomic chair.
Identify critical ergonomic office products and accessories that can be used to minimize risk factors and improve ergonomics in the work environment.
Watch demonstrations of a variety of assessment techniques necessary to perform an objective office ergonomic evaluation performed by Ms. Heller-Ono.
Use the Worksite International Preventive Evaluation form and principles of office ergonomics to create solutions for success.
Once registered, you will have access to:
The DIY Train the Evaluator course portal where you will have ongoing access to all pre-recorded learning modules forever!
Weekly modules will be available for your self-paced learning
Exercises to build your skills and competency in performing ergonomic evaluations, interacting and advising employees and management on ergonomic-related matters at your organization.
Two Small group coaching video sessions after modules 3 and 6 are completed
Advanced students will participate in two one: one private coaching sessions to review two evaluations.
Elite students will participate in six one: one private coaching sessions to review three evaluations.
Once you've completed the requirements, you will:
Demonstrate the ability to perform a preventive office ergonomic evaluation for an employee (with no symptoms) and complete the report of findings and recommendations.

Provide relevant education and training to an employee regarding how to set up their workstation correctly and use their equipment most effectively for best practices in workstation set-up.

Identify, select and recommend the most appropriate ergonomic furniture and accessories appropriate to employee needs and within your budget.
Note: All COEE recipients will be required to renew their certification annually and submit one report for a small fee. More details to be announced.
About Your Instructor
Alison Heller-Ono, MSPT, CDA, CASp, COESp, CPE, and CMC

Alison Heller-Ono is President/CEO of Worksite International, Inc., and has been helping employers save millions through the Worksite International ergonomics process and injury prevention methods since 1993. She is a veteran physical therapist, possesses 2 board certifications in Ergonomics (CPE and CIE) and is a Certified Disability Analyst (CDA). Alison is also a Certified Management Consultant (CMC) through the Institute for Management Consultants (IMC) and a certified Chair Assessment Specialist (CASp) using the Worksite International Chair Assessment System (CAS). Alison has been teaching students the art and science of ergonomics for over 25 years and is a "pioneer" in the Bay Area Ergonomics Community.
Disclaimer
This private credential workshop is provided to assure competency in conducting ergonomic evaluations within your organization only. There is no state or national licensing criteria required to perform ergonomics analysis in the workplace. However, there is national board certification to become a certified professional (CPE)or industrial ergonomist (CIE). Completion of this course does not mean the certificate holder is qualified to perform evaluations outside of the organization nor can they call themselves a certified "ergonomist". Our certification is designed to help you evaluate healthy employees and set up safe work areas. For more information on national certification, ask us.