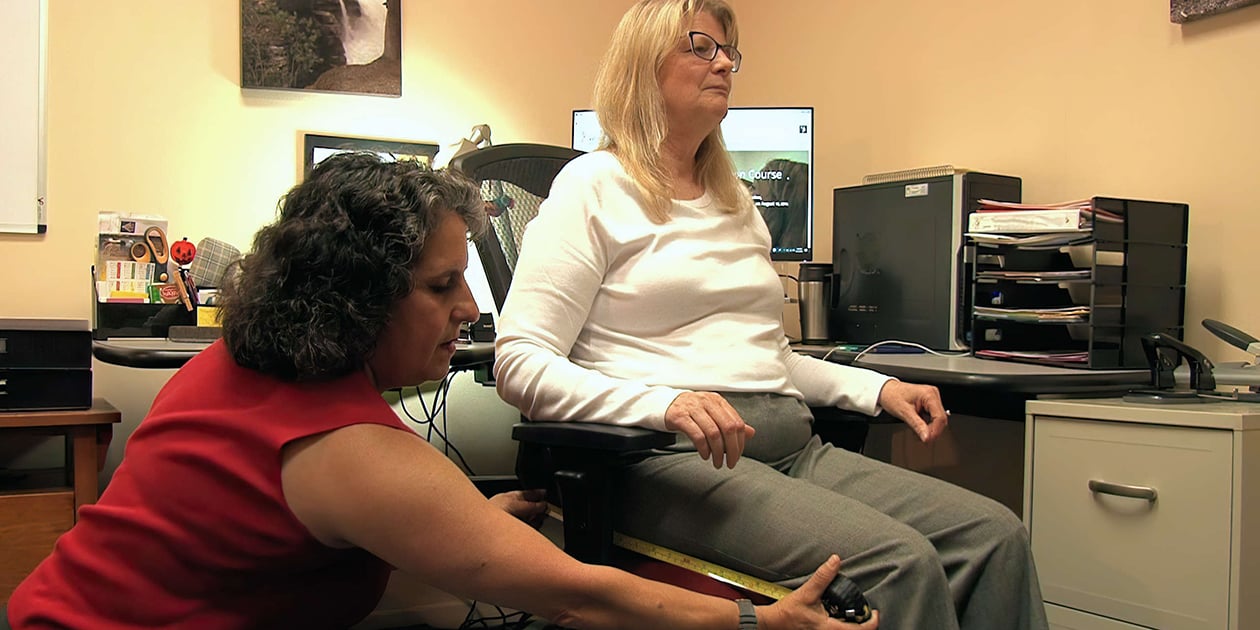 Nowadays its critical employers focus on employee health, safety, and well-being more than ever. The cultural shift to ensure employees are working well has never been a higher priority. To that end, the science of ergonomics is proven to help promote better performance, health, and well-being for employees, making a positive impact on organizations. But who is your organization's designated ergonomics specialist? And are they certified to perform at the level you need them to?
If you don't have a qualified internal or consulting ergonomics specialist to perform essential ergonomic assessments on healthy employees working onsite, remote, or hybrid, or on the shop floor, then you are missing out. The role of the ergonomics specialist is essential to support your organization with critical decisions influenced by good ergonomics. Without one, you have a serious gap in knowledge, skills, and resources limiting your ability to make gains in reducing injuries and improving wellness.
Ergonomics Credentials are Part of a Career Growth Path
In the effort to attract and retain talent, offering the right employee a chance to up level their career while supporting your organization is an exceptional strategy. Training managers, Learning and Development managers would be wise to recognize ergonomics as a growing career path for employees. Learning how to perform office ergonomic evaluations on healthy individuals is not only good for the individual but the organization. But before you enroll them or yourself, learn about the most popular ergonomics certifications and certificates in the ergonomics training marketplace.
The Difference between Certificate and Certification:
There is a distinction between the terms certificate versus certification. The Institute for Credentialing Excellence defines this clearly.
A certification program is designed to test the knowledge, skills, and abilities required to perform a particular job, and, upon successfully passing a certification exam, to represent a declaration of a particular individual's professional competence. In some professions, certification is a requirement for employment or practice.
In contrast to certification, an assessment-based certificate program is an educational or training program that is used to teach learning objectives and assess whether the student achieved those objectives.
The Hierarchy of Certificates, Certifications, and What they Mean
Becoming certified is evidence of a minimum level of professional competence, but demonstrating the necessary competence has significant variability depending on the credential selected, the course content, the instructor's qualifications, experience, and skills, and the student's background. While certification is important to advance the credibility of a profession, employers and prospective students should be mindful of what each course and credential brings.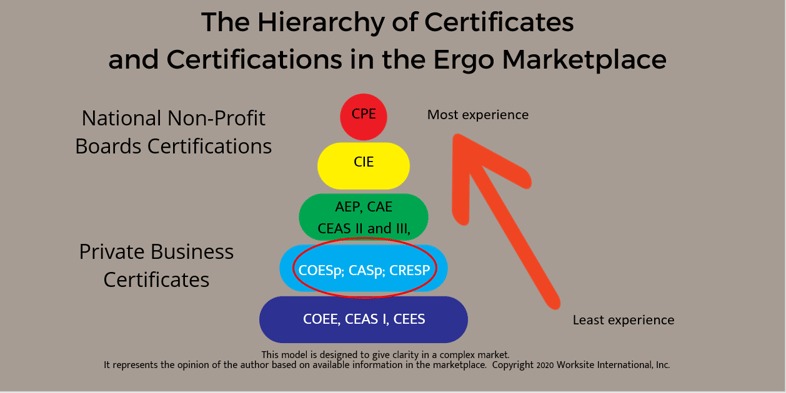 For clarity, the hierarchical model of certificates and certifications in the ergonomics training marketplace shows the transition from for-profit, private-business certificates to national non-profit board certifications. To classify the credentials, it's best to think of them as Freshman, Sophomore, Junior, Senior and Master class or least experience to most experience.
The private-business courses are open to anyone who is interested and pays the entrance fee. While it's helpful to have a background in safety, health, wellness, rehabilitation, or similar training, typically no experience or degree is required.
Certificates are earned by attending a one- or two-day workshop or completing 8-32 hours, live or online to achieve a minimum level of acceptable testing and reporting. Many courses offer further validation of the course value by a third-party review and approval. Whereas, the Certification boards typically require a relevant degree (Bachelors), a minimum of years of experience, proof of ergonomics project work, and passing an extensive examination before earning the coveted credential of a CPE.
The Freshman Class (Least Experience)
These programs offer entry level certificates, like freshman in high school. As examples, the CEAS I, CEES, CBES, and COEE are considered entry level courses providing general information about the science of ergonomics and how to use OSHA checklists, RULA, REBA and NIOSH formulas. Many of these are taught by non-CPE credentialed professionals with alternative degrees in physical or occupational therapy, or chiropractic care and often include a more "therapeutic approach."
The Sophomore Class
The next level up or intermediate level is the online programs offered by Worksite International Ergonomics Training Academy (WIETA). Candidates earn an advanced certificate in office, chair, or remote ergonomics. There are three technical designations available: Certified Office Ergonomics Specialist or COESp, Chair Assessment Specialist or CASp, Certified Remote Ergonomics Specialist or CRESp, and one for Certified Ergonomics Process Leadership, CEPL. The WIETA offers extensive coaching and mentoring with a CPE, along with a review of all assignments required to demonstrate learning and integration of course content over time. By guided practice to course completion, the student demonstrates a clear transformation in achieving the course objectives.
The Junior/Senior Class
Beyond the intermediate level are AEP, CAE, CEAS III, and CIE. These are awarded for additional time and skill demonstration and may include peer review, submission of project work, passing a comprehensive exam for board approval.
The Master Class (Most Experience)
Selecting a CPE assures employers and consumers they are working with a professional who has met the most rigorous standards available. In particular, the BCPE requires applicants to possess an advanced degree in a related field such as engineering, human factors, industrial psychology, or physical therapy. The CPE certification process requires far more breadth and depth than all the others, along with years of experience, and a solid demonstration of many complex ergonomics theories and practices.
The Most Popular Ergonomic Certificate and Certification Programs
The table below lists the most popular certificate and certification programs available in the ergonomics training market today. It is not an all-inclusive list (excludes university degrees and human factors programs). Each program listed offers varying lengths of training, testing, and submission of work to demonstrate competency to become certified. Ergonomics is an applied science, so people with degrees in healthcare, engineering, psychology, and other non-degreed backgrounds can be certified. By far the most respected and highest level of certification achievable in ergonomics is awarded by the Board of Certified Professional Ergonomists (BCPE)
Organization

Type

Certification or Certificate

1. *Board of Certification in Professional Ergonomics (BCPE)

*International Ergonomics Association Endorsement based on ISO/IEC 17024 standard for certifying bodies.

National Board Certification

CPE - Certified Professional Ergonomist
AEP –Associate Ergonomics Professional

2. Oxford Research Institute (ORI)

National Board Certification

CIE - Certified Industrial Ergonomist
CAE – Certified Associate Ergonomist

3. Worksite International, Inc.**
**Each certificate includes a license to use the Worksite International System of Ergonomic Evaluations (WISEE) and membership in the WINetwork Membership Program.

Private Business Certificate

CEPL: Certified Ergonomics Process Leader

COESp: Certified Office Ergonomics Specialist

CASp: Certified Chair Assessment Specialist

4. Matheson's Ergonomic Evaluation Certification Program

Private Business Certificate

CEES -Certified Ergonomic Evaluation Specialist

5. The Back School

Private Business Certificate

CEAS I, II, III -Certified Ergonomic Assessment Specialist, REAS-Remote

6. OCCUPRO

Private Business Certificate

COEE-Certified Office Ergonomic Evaluator

7. Humanscale

Private Business Certificate

COEE-Certified Office Ergonomics Evaluator

8. Worksaver's

Private Business Certificate

CBES- Certified Behavior-Based Ergonomics Specialist

9. American Posture Institute

Private Business Certificate

CE-Certified Ergonomist*

*Misleading credentials based on marketplace research, entry level program.
Worksite International's Ergonomics Training Academy
Worksite International's Ergonomics Training Academy (WIETA est.2019) offers a professional certificate pathway that dives deep into office ergonomics. Students learn a macro and micro approach focused on leadership, office, chairs, and remote evaluation skills. The WIETA uses an exceptional online learning design framework designed by Ergonomics Program Education Specialists who are also Board-Certified Professional Ergonomists. The Director of the Academy and Lead Course instructor is Alison Heller-Ono PT, MSPT, CPE, a highly trained, experienced ergonomics business consultant, certified professional ergonomist, and physical therapist with three decades of teaching, coaching, and mentoring students in office ergonomics and beyond.
A Cornerstone of Guided Practice Leading to Independent Performance
The WI Ergonomics Training Academy offers participants guided practice leading to independent performance. Students learn basic office ergonomics theory, methodology, practice, and skills to conduct an evidenced-based, accurate office ergonomics evaluation. All students are taught to use one of three Ergonomics Evaluation Systems, all peer-reviewed and validated systems aligned with the primary objective of each course-organizational ergonomics leadership, office ergonomics, chair ergonomics and remote ergonomics. Enrollment includes a license to use these systems upon earning a certificate.
One: One Coaching and Mentoring is Essential for Success
All students move through the online courses at their own pace, building on knowledge and practice ending with a final exam and submission of a final evaluation. Each student participates in one: one coaching and mentorship at various milestones receiving over 13 hours of support along the course pathway until earning their course credential demonstrating competency upon completing all requirements. As an added benefit, students are part of a growing community in the WINetwork Membership program offering ongoing ergonomics continuing education outside the scope of the courses.
If you'd like to learn more about ergonomic certificates, certifications, and credentials, and the WI Ergonomics Training Academy professional courses, contact us for an exploratory course coaching consultation.