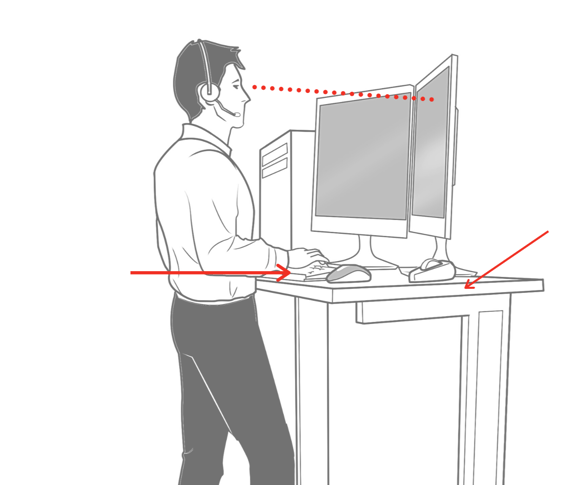 As the pandemic continues, technology and service workers around the country continue to work at home.
The longer they work, they are discovering how uncomfortable the desk or table used for intermittent letter writing, meals, bill paying, or web searching is inadequate for the eight to twelve hours of actual computer work.
They realize the inexpensive, big-box store, home office chair, or worse, kitchen chair, is insufficient to support excessive, prolonged sitting.
A sore back and buttocks are driving the need to stand up! The quick-fix pillow hack for support is getting old!
As time goes on, more and more folks will want and need to stand up to work for a posture break, while remaining productive.
They will search the internet for just the right stand-up station, try to decide between the type of desk they should buy, the features that will work best for their situation, the affordability of their investment, and what kind of results their work surface will provide.
Only to realize there are hundreds of sit-to-stand desks to choose from, literally. And without guidance, it is easy to choose poorly, wasting money and affecting your health or the health of others negatively.
Does this sound like you or someone you know? There is a better way!
Consumeradvocate.org
Enter Consumeradvocate.org., an editorial team that performs rigorous research and testing. Consumeradvocate's researchers generate helpful, honest, and accurate information to match you with companies that are best for your specific situation so you can find what you need when you need it.
They review hundreds of products and services, and often the categories covered are purchases that are important, complex, or difficult to research.
I was recently approached by Consumeradvocate.org to review their report, "Best Standing Desks Based on In-Depth Reviews: A comprehensive guide to finding the standing desk that fits your personal needs and workspace."
Given the importance of the topic and the number of companies and consumers interested and affected by standing desks, I agreed.
The report is thoughtfully written even with the caveat, which is made transparent to readers.
"Consumeradvocate.org receives compensation from their partners, which impacts the order they appear on the page. That said, the analyses and opinions on their site are their own, and they believe in editorial integrity."
I noted that this article did not have any "partners."
Best Standing Desk Guide
The "Best Standing Desk Guide" is reputable. It features both internationally known ergonomist researchers, Dr. Alan Hedge and Dr. David Rempel, providing fact-based guidance based on their research on the use of sit-to-stand work surfaces.
I have heard their advice in live presentations which gives the guide good credibility.
The article cites over 200 hours of research, 23 sources used, 19 companies vetted, and four features reviewed including the type of desk, features, affordability, and customer experience, resulting in six top picks in various categories.
Although, they note they were not able to physically test each desk reviewed physically.
After looking at 28 desks from 19 different companies, they picked six that were the best in the following six categories: best overall, manual, electric, tight budget, ergonomic, and desk converter.
To learn which stand-up desks wound up in the top six, you will have to read the article! It offers objective specifications and benefits serving as a useful resource for employers and consumers to read before purchasing a stand-up desk.
It is educational and informative.
However, the review lacks some of the insight and perspective a professional ergonomist could provide regarding stand-up desk design relative to fit and function.
Old Desks Never Die, They Just Stand There
Buying a stand-up desk is a once in lifetime investment for most people. Buy a desk that fits you, your office space, and your work style.
Learn all you can before you invest in a stand-up desk. Understand the ergonomics of standing desks. You do not want to realize the adjustment range does not fit you once you are all set up.
I also want to emphasize standing up to work is not for everyone! And there are other quick fixes and hacks to create a stand-up surface to work on at home.
Stacking three banker boxes and adding a shelf across makes your desk height 36"-38" H for a convenient laptop surface. Or, try an ironing board for a brief, easy, and portable stand-up solution that might work.
The recommended standing surface height is based on your standing elbow height. For a 5'0 female, the recommended standing desk height is approximately 36.5", and for a 6'2" male is about 45.5" H.
Recognize your standing tolerance before you buy. If you are good for 15 minutes to an hour a day standing, is it worth the investment?
Surely you can stand at your kitchen counter or install a shelf at standing elbow height for low, intermittent standing needs. For more guidance on setting up your stand-up desk, see Figure 1 below.
I have had my home electric stand-up desk for over 20 years, and it works like it was still new. That is why I like to say, "Old desks never die; they just stand there!"
So, make your buying decision a wise one, as your desk will likely last a lifetime. Leave a comment or ask questions. I am here for you, if you need a second opinion!