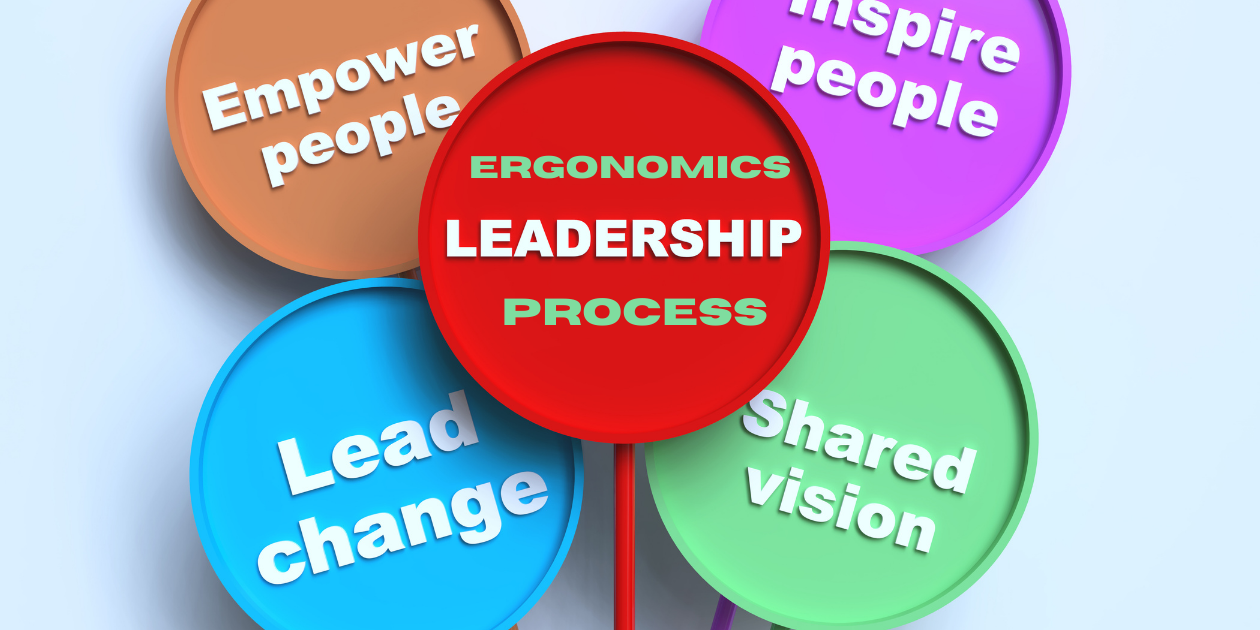 Our new way of working requires a new way to lead.
Leadership is a hot topic. That's because we need B.R.A.V.E. leaders when times are challenging. With the growing focus on health, safety, and well-being in the workplace, it's the perfect time to elevate the need for ergonomics as a leadership driven change management strategy that addresses the way we work today.
The Value of a Designated Ergonomics Leader
Today's employer needs a designated leader to manage ergonomics in the workplace as a systematic process integrated into day-to-day decisions. Ergonomics should not be an intermittent transaction implemented by Safety, Human Resources, or a supervisor, in response to an injured or disabled worker. This only makes ergonomics a privileged transactional service when it should be a service available to everyone in the company. With a ubiquitous emphasis on ergonomics, and someone to carry the torch, all employees and the organization can be positively impacted through improved work design, no matter their status or situation.
Building an efficient, value-added ergonomics process (EP) based on lean, participatory principles benefits the entire organization.
So, what does an Ergonomics Process Leader do?
Here are the top ten responsibilities of an Ergonomics Process Leader.
1. Develop the ergonomics process policy to ensure integration in all relevant operations. This includes everything from wellness to prevention to workers' compensation management, as well as disability management. Facility planning with ergonomics, purchase process, technology support, and furniture standards, are also important parts of the process.
2. Support, promote, and defend the underlying concepts of the ergonomics process policy by representing ergonomics in essential work design operations and employee health decisions.
3. Ensure stakeholders (i.e., IT, Purchasing, Facilities, Maintenance, and managers) in the organization understand the ergonomics concepts they should consider when making essential decisions that affect work and employees.
4. Design and implement an effective ergonomics evaluation process that incorporates ergonomics training, self-assessments, evaluations, and implementation of control measures to fulfillment.
5. Monitor and input all relevant data related to the ergonomics process by utilizing a database for statistical purposes. Demonstrating a return on investment and cost-benefit by tracking activities creates a powerful business case to leverage your investment, gaining stakeholder buy-in for ongoing investment.
6. Prepare a budget and monitor costs associated with process implementation. Report to executive leadership for approval of fiscal needs.
7. Prepare reports and presentations as required by administration.
8. Understand basic office and industrial ergonomics, the impact of repetitive motion and cumulative trauma in the workplace and the process of evaluating an employee for ergonomic risks. Ensure this knowledge is shared with other stakeholders.
9. Supervises all internal ergonomics specialists and outside ergonomics consultants to ensure successful implementation of the ergonomics evaluation process and other assessments.
10. Acts as a liaison between executive leadership, management, supervisors, and employees to ensure the ergonomics process addresses diversity, inclusion, and equity.
A Clear Path Forward
Leadership needs a clear path forward. They don't know what they don't know about ergonomics. By having your ergonomics process a part of day-to-day workflow, decisions, and business operations, it becomes imbedded in thought and action across the organization.
This is the role, and these are the primary responsibilities of the Ergonomics Process Leader.
To ensure ergonomics is thought of and implemented
every day
…. for your people and your processes. A new position for an evolving working world.
To learn more about becoming a Certified Ergonomics Process Leader, register for the free webinar, How to Succeed as an Ergonomics Process Leader.