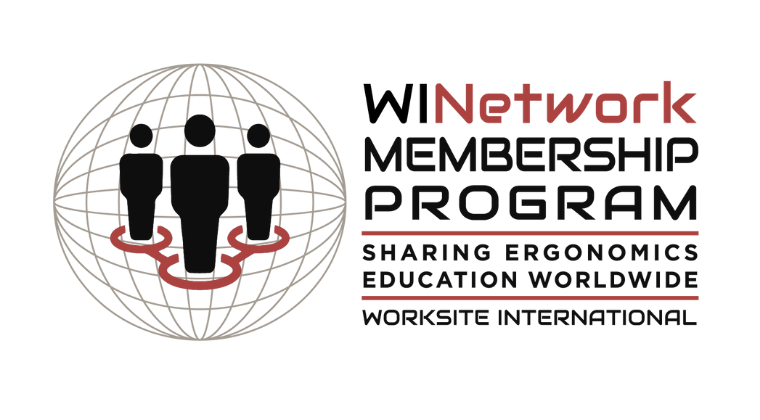 The pandemic has changed our sense of community. During the pandemic, everything changed. Most of us were forced to transition from working in the office to working from home and online. In the process, we learned how to adapt and connect worldwide. Online communities thrived during the pandemic and continue today. The WINetwork is an example of unifying the ergonomics community globally.
Vital Community Engagement
Online communities provide the power to reach those from across the world. During the pandemic, human interactions were limited. We were unable to meet in person and physically enjoy time with each other. Online communities gave us the power to do so.
Communities motivate those within. They provide accountability, social contact, and sharing by helping fellow members learn and achieve their goals. This has been true for our Worksite International Network (WINetwork) Membership Program serving a global community.
What is the WINetwork?
The WINetwork Membership Program started in January 2021 spearheaded by Alison Heller-Ono PT, MSPT, CPE and President of Worksite International, Inc. It is a private membership community originally designed for just our professional students enrolled in our ergonomics training academy.
Last year, however, we opened the WINetwork Membership Program to professionals outside our academy interested in learning about ergonomics. Whether in our academy or not, anyone who wants to enhance their knowledge in occupational ergonomics can join our global community, and the first meeting is free!
Who is in the WINetwork?
Currently members include HR specialists, Industrial hygienists, EH&S professionals, loss control specialists, PTs, OTs, and other rehab professionals, WC and Risk Managers, Facility and Purchasing Managers, and others interested in ergonomics.
Our members are from many countries around the globe from Indonesia, India, Thailand, Hong Kong, Australia, Canada, England, and across the USA.
The WINetwork is a great community for anyone anywhere interested in learning more about occupational ergonomics trends, research, and strategies used by ergonomists and employers.
WINetwork Membership Benefits
When you join the WINetwork Membership Program, you receive:
Valuable monthly continuing education opportunities
Timely and first release ergo-resources
Online training discounts in the WI Ergo Academy
Monthly WINetwork newsletter and announcements
WINetwork Resource Library of all expert sessions
Once a month live Expert Hours, where invited ergonomics, health, and safety experts speak on specific topics in a live, interactive forum
Monthly Live "Expert Hour"
One of the many benefits of the WINetwork Membership Program is the live monthly interactive online meetings with experts from around the world speaking on their specific areas of expertise.
Our "Expert Hour" occurs on the 4th Thursday of the month from 11:00 am -12:15 pm PST where we share, discuss, and learn from our expert thought leader. Members ask questions and participate along with the expert on the topic of the month. The topics are relevant and timely to broaden your knowledge in ergonomics.
In 2022, we had twelve unique expert speakers who shared their wisdom on a wide variety of current ergonomic trends including:
Macroergonomics
The State of Human Factors and Ergonomics in 2022
Complex organizational systems
The Anthros Story: Bringing a new ergonomics chair to market
Enhancing ergonomic interventions using macro ergonomics
Ergonomics in Australia
The value of RSIGuard
ADA and Ergonomics
Ergonomic Risk Factors and Misconceptions
In 2023, our agenda of global expert topics are:
International Ergonomics and Regulations- ISO 45001
The Importance of Metrics: ANSI Z-16
Ergonomics in eSports and Gaming
Robotics and Exoskeletons
Artificial Intelligence that Analyzes Video Footage of Workers
And much more
WINetwork Newsletter
Members receive the WINetwork newsletter and other announcements on upcoming events for Expert Hours, timely topics, exclusive offers, course discounts, and updates, and first-to-know on new courses and products.
Resource Library
Since our community is global, our resource library is open 24/7 to all members in any time zone for access to all the recorded Expert Hour sessions (over twenty-three sessions). Our ergonomics resource library also includes timely resources, white papers, free downloads, and more. Each month we update the resource library with the latest monthly lecture and other useful resources our experts provide or Alison places in the library.
WINetwork Gives Back
Our network isn't just educating our members in new ergonomics marketplace trends and research, but we also focus on giving back to our local and global communities. We value each of our expert's time and expertise, and the valuable contributions they make to our network. For this reason, we donate to a non-profit organization of their choice. To date, we have contributed thousands of dollars to organizations like St. Jude Children's Research Hospital, local food banks, homeless shelters, humane societies, and more.
This makes our network a full-circle organization driven by our desire to help others through ergonomics and those who need help in other areas outside the workplace.
Become a Member
If you want to be part of a growing global ergonomics community and learn about ergonomics education worldwide, then join us today!
Your first WINetwork meeting is free, and there is no obligation afterward. Annual meeting dues are $159/year or included in your professional course enrollment in our academy.
Subscribe to our newsletter so you never miss a WINetwork Expert Hour meeting.