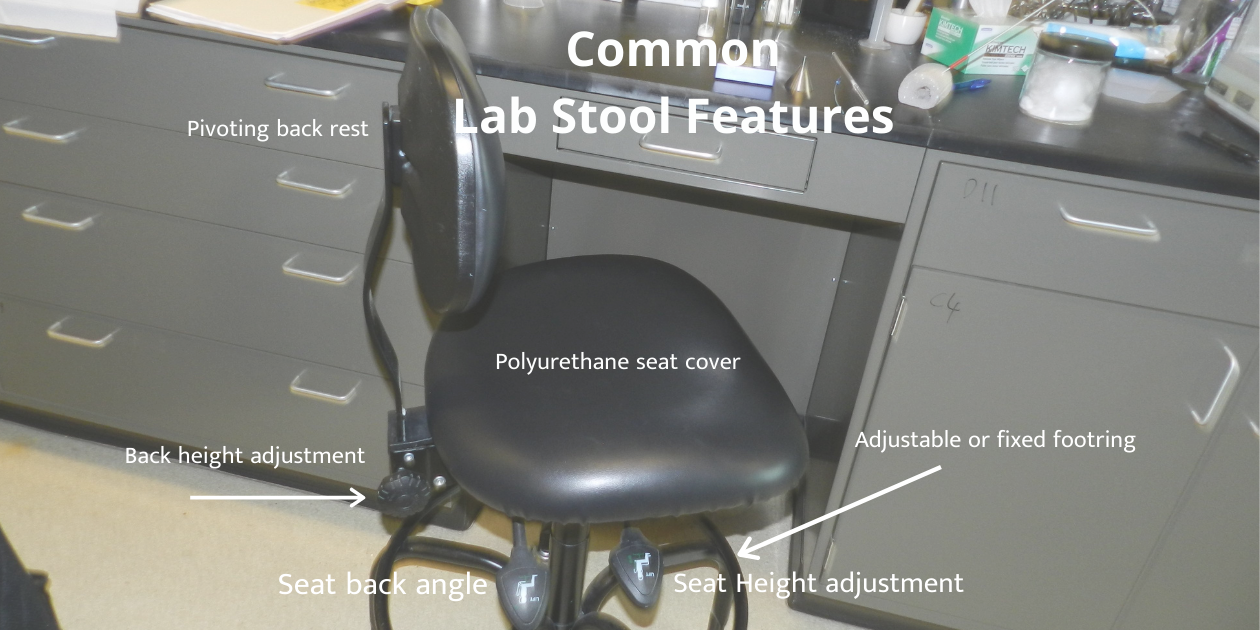 As a Professional Ergonomist and Chair Assessment Specialist (CASp), I often talk about the science of sitting, chair assessment, selection and fit in my blogs, in my presentations, and when I evaluate employees in the office. You may of heard me say, "if the chair isn't right, then the ergonomics of the workstation will never be correct."
But how does finding the right chair happen in the laboratory? Most of the time, laboratories require the use of stools. A stool is often described as an elevated chair with a taller cylinder and footring for leg support. It may or may not have a backrest.
As hard as it is to find the right office chair, it's even harder to find the best lab stool for scientists! You can literally equate it to the story of Goldilocks. This one's too big, this one's too small... you know the story!
So, how do you find the lab stool that is just right for your scientists? Here are six strategies to keep in mind when selecting a laboratory stool.
1. Select Cylinder Height Based on Worksurface Height
Before you purchase any stools, check with your team to determine how the stools will be used and where. Depending on whether they will be working at a low counter, tall counter, for computer use, pipette tasking, microscope, or at the bio-safety hood will help to select the right stool height for the job. Measure the surface height where the task will be performed to determine optimal stool height.
Knowing the surface height is critical to selecting the best stool height or cylinder range.
26"-30" surface height select a cylinder that offers 5" range typically 16"-21"H
31"-36" surface height select a cylinder that offers a 6-7" lift typically 18"-24"H
37"-42" surface height select a cylinder that offers a 10" lift typically 22"-32"H
Keep in mind, the 10" lift capacity for a tall counter is a real challenge for shorter stature individuals to get on and off. A lot of energy is used to hike the hip up to a chair seat that is set above 29"H. Getting on and off the stool routinely is even more tiring for those that may need to "jump" to sit. This particularly applies to petite stature scientists with height of 5'2" or shorter. For this reason, most staff will require the use of a footring or a footrest to help get on and off the stool safely.
2. Select Stool Features Based on Task Performance
There are some basic chair features recommended for working at the fixed height bench. At minimum, the lab stool should offer pneumatic seat height adjustment in the recommended range, seat back height adjustment, seat back angle for lumbar support (ratchet is preferred over a manual adjustment or pivot back), and seat depth adjustment. The more obvious and easy the adjustments are, the better. A seat back height of at least 20"-22"H is suggested to support lumbar and most of the thoracic spine including the mid-scapular area.
Several advanced features are also recommend, especially if scientists will be doing forward leaning tasks over the bench such as microscope use, note writing, or working at the biosafety hood. This essential feature is a forward seat tilt to allow the trunk to thigh angle to be closer to 100 degrees or greater, tilt the pelvis forward, and support the back while looking downward with the head, eyes, and neck.
The forward seat tilt works in conjunction with adjusting the seat back angle to a more open angle, or slight recline, so as not to compress the trunk to thigh angle. If this posture is assumed, then a footrest placed in front of the footring is recommended to ensure foot support on a stable base, if the feet aren't on the floor.
Next are armrests. It is debatable whether these are needed. There are pros and cons to adding armrests to a lab stool. Armrests are vital to helping scientists get on and off the stool. The taller the cylinder, the higher the work surface, the more likely the armrests will be used to help securely and safely get on and off the stool. Armrests help to offload the weight of the trunk and arms at rest, but in the lab, the scientist is often reaching forward for tools or to adjust the microscope, using their arms actively to hold plates, pipettes or liquids in containers. These activities don't require armrest use. However, computer use, typing, and using a mouse are shown to benefit with armrest support as does just resting the arms.
If the design of the armrest isn't right, then it may restrict proximity to the counter, not go low enough, not go high enough, or not adjust in elbow breadth sufficiently to benefit the user.
Bottom line evaluate the need for armrests. Ask your scientists if armrests would work with certain tasks. To properly select for an armrest, measure how high you need them. A sufficient armrest height should be adjustable as high as the worksurface height (from the seat pan), slightly below or slightly above to support the arms at rest or during task performance. Typical adjustment range is 6"-10"H from the seat pan. The best armrest is the one that fits! Otherwise, they are no good and will need to be removed.
To learn more about the value of armrests, click here.
3. Select the Type of Fabric and Cushion Needed

Selecting the type of fabric and cushion support should be determined by the work environment, chemicals used, and residues in the lab. Most lab stools can be specified with polyurethane material, vinyl, fabric, mesh weave or a combination. Just be sure its easy to clean and won't tear easily. In some labs, electro-static dissipative fabrics maybe necessary.
Cushion comfort is important so be sure the seat and more importantly, the foam under the fabric is of good quality, doesn't compress easily, and will hold up for years to come. Cushion comfort is essential for weight distribution, especially with prolonged sitting of several hours or more per day. The seat cushion should not compress to the point where the frame is felt below causing contact pressure to the underside of the thighs. The fabric covering you choose will also impact the cushion quality and feel depending on the weave design and fabric integrity. Some lab stools are simply molded plastics without foam or fabrics.
How the chair "looks", it's color, and whether it matches your work environment should be less important than fit, comfort, and function!
4. Casters
Casters are an important feature of the lab stool that should be selected based on the floor surface in the laboratory. Most labs offer hard floors made of concrete, vinyl, or tile. If this is the case, then a soft rubber caster is recommended to create a bit of friction between the wheel and the floor to avoid slippage of the chair from under the user and control mobility. If a carpeted floor is present, then a hard caster is recommended. Remember "hard floor=soft caster" when purchasing lab stools.


5. Footrest, Footring and Leg Space
An important fact when sitting on an elevated stool height is dangling legs. When legs and feet are unsupported, it affects circulation and blood pooling to the feet and ankles. Footrests are not used enough in lab environments, especially in the leg well space of lab counters. It's important there be ample space for legs and a footrest. A tall footrest that adjusts from 6" to 12"H or higher is recommended under the lab counter or biosafety hood. Ensure there is ample space between the top of the thighs and under the counter when feet are on the footrest or footring.
A footrest provides added comfort by allowing scientists to put their legs out in front, rather than tucked under the chair on the footring. An open knee angle of greater than 90 degrees is more comfortable than not.
The footring can be used in combination with a footrest, or independent of one. The footring is typically included with a seat that is 18"H or taller. Many are adjustable but some are fixed position. To fit more scientists, go with an adjustable footring, but be sure to adjust it to support lower leg and feet height. The footring is helpful to step into the stool or off for safe egress.
6. One Size or One Type May Not Fit All Your Scientists
Regardless of the stool selected, it may not fit all your employees or all the tasks performed in your lab. Recognize petite lab scientists, less than 5'2", those that are exceptionally tall, greater than 6'0 or large capacity, greater than 275 lbs., are likely to need an alternative option when sitting in the lab. In addition, the chairs you buy for bench work may be different than those you purchase for the biosafety hood or microscope tasks. Work with your chair vendor to modify chair parts to fit as many people as possible.
Other Considerations
There are other considerations when selecting the right lab stool for your scientists. This includes investigating the warranty period of the stool, what parts are covered for chair repairs or replacement, how much customer service is included with the warranty, cleaning the upholstery and if returns are possible. Ask these questions prior to purchase. Where you buy your stools from, what you pay for your stools, and who you buy them from is very important!
Your investment matters and will reveal itself in quality, competency, employee comfort, and chair sustainability.
In many ways, the above information is applicable to other types of tall seated work areas. This might include bank teller counter, front counter reception at a medical clinic, seated assembly process, or city clerk office. Apply these stool selection principles when the fixed height worksurface is greater than 30"H.
Select for Safety, Comfort, and Productivity
Selecting the correct stool for the job is paramount for safe, comfortable, and productive seated lab work. To be sure you have selected properly, consult with one of our Chair Assessment Specialists (CASp) and professional ergonomists at Worksite International.
You only get one chance to select the right stool. Take the time to assess what will work best. Select a few stools for scientists to ensure they work for the task performance and support desired. Explain and educate how the stools adjust and fit best. Then proceed to invest fully knowing you've selected the right stool for your scientists.
To learn more about ergonomics in the laboratory, attend our upcoming virtual seminar on June 23 at 11:00am PST, "The Ergonomics Blueprint for Tomorrow's Laboratory: Proven Strategies for Smart Lab Managers and Science Decision Makers." Enrollment is free.
If you are interested in laboratory ergonomics education, check out our laboratory ergonomics courses delivered on-demand, and online. Set up a video chat and demo to learn more about all our online courses or onsite evaluation and chair selection services available for your organization.