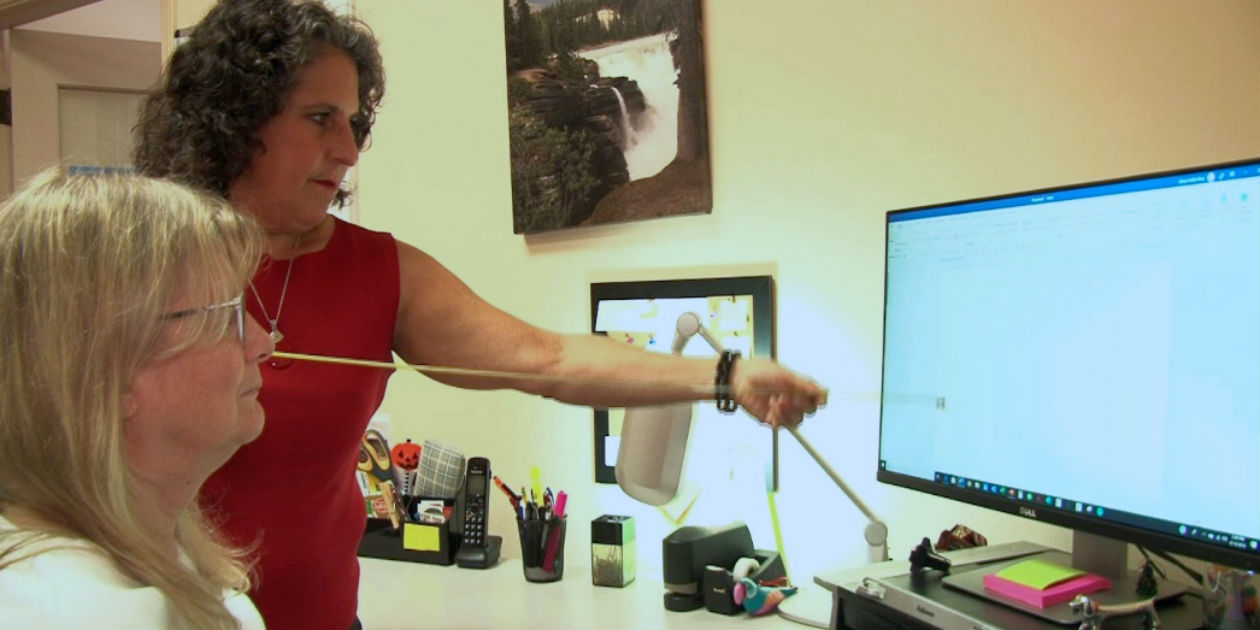 Businesses tend to be reactive when it comes to employee health and safety, mostly because they don't budget for prevention. Employers typically wait to act until after a workers' compensation claim occurs. By then, it is too late! Not only did the employer miss the early warning signs and an opportunity to prevent the injury, now the financial implications are real. In California, the average cost of a typical seated work injury is at least $40,000 per case, according to the California Division of Workers' Compensation.
On the other side of the coin, many employers believe "all is well" because employees don't report injuries or discomfort. Don't be fooled by the "no injury reports," as this is a classic sign of under-reporting. Your employees have pain; trust me! They just aren't saying anything about it.
If you are a small to midsize business and you are tired of being reactive, I've got just the thing for you! Check out this case study about a small business in Northern California, who was ready to invest in prevention and wellness, rather than "chase their injury tail."
A Small Business Case Study
A small employer in San Ramon, California, wanted to get ahead of the curve and avoid the onset of work injuries. Even though there were no reports of injuries or discomfort at the time of this study, they reached out to us regarding our preventive ergonomic services. Our online office ergonomics training and onsite ergonomic evaluation services fit their needs.
The following services were selected to address rising employee concerns:
Online office ergonomics training, "Office Ergonomics: Working in Comfort"
Onsite office ergonomics Ergo-Coach 20- minute sessions to support employees after training
A personalized report of findings and recommendations for each employee
The Benefits of Online Ergonomics Training
Our first step was to assist the client in setting up their online training program. We provided a direct access link via email along with a Kick-Off letter to the employer to launch the online training and ergo-coaching services. By the time of our site visit, everyone completed the online training except the manager. Certificates of Achievement were awarded for validating completion of the training prior to each employees' ergo-coaching session.
The value of taking the online training before the ergo-coaching sessions gave the employees the knowledge they needed to get the most from their ergo-coaching session. They were able to:
Demonstrate an understanding of ergonomic risk factors
Identify postural behaviors, both safe and unsafe
Show improved awareness of chair use and workstation set up
Self-identify their main concerns and were prepared to discuss during their ergo-coaching session
Download the employee job aids from the online training resources
The 20-minute coaching session was ample time to review the principles of ergonomic workstation set up because employees had far more awareness of ergonomic issues, self-responsibility, and willingness to change work behaviors as a result of this project. Skills in self-adjusting equipment improved as a result of the ergo-coaching sessions giving them the knowledge to manage the early warning signs of ergonomic injuries.
Management Missed the Boat
During the ergo-coaching sessions, 80% of employees reported discomfort and symptoms denoting early warning signs for potential injuries that were previously unknown to management.
Unfortunately, the Site Manager did not complete the online training even though all employees had done so. When managers and supervisors don't participate along with employees, it results in a discrepancy between what employees experienced and learned from the online training and coaching vs. the manager's knowledge about office ergonomics. The manager is now at a disadvantage and may not be able to adequately answer employee's questions or concerns about the services provided, simply because they did not participate.
The lack of management participation is a common occurrence for many employers. The downside of not participating along with the employees creates a barrier to success to the otherwise high-value outcomes preventive ergonomics can bring. The manager's good intent in providing these services is overlooked by their inability to identify with and empathize with the employee experience, a definite disconnect between employees and management.
The Proof is in the Positive Results
In the post-training satisfaction survey, 22 employees were asked if the training was worthwhile, 100% responded yes! They were also asked if they felt they were able to self-correct and adjust the workstation to suit their needs. 64% of employees stated they were able to do so. While 27% felt they needed a little assistance. Only 9% indicated they needed a full ergonomic assessment to correct their concerns.
Online Office Ergonomics training, followed by onsite ergo-coaching, provides excellent outcomes for small businesses by engaging employees in self-correction, self-care, and safe work practices. The employer achieves compliance, employee accountability, early identification of signs and symptoms, and how to respond with an appropriate plan of action to minimize or eliminate ergonomic risk factors to the extent feasible leading to workers' compensation claim avoidance. The return on investment estimated for this type of project is $3.00 to $10.00 saved for every $1.00 invested.
Why not create your case study? Start by watching our latest on-demand webinar, Office Ergonomics: Working in Comfort for Decision Makers. Learn whether online training and onsite ergo-coaching are right for your organization.